14. June 2021.
Successfull 3rd edition of International Saxophone Competition Josip Nochta
Despite the pandemic, Music Academy Zagreb hosted the 3rd International Saxophone Competition Josip Nochta. The competition takes place every three years in memory of the renowned pedagogue Josip Nocht, who introduced the saxophone to Zagreb's higher education and raised the first generation of excellent saxophonists. The first two editions of Nochta in 2014 and 2017 enriched Zagreb and Croatian culture with the high performance of Croatian and foreign young saxophonists, and the same happened in this pandemic year.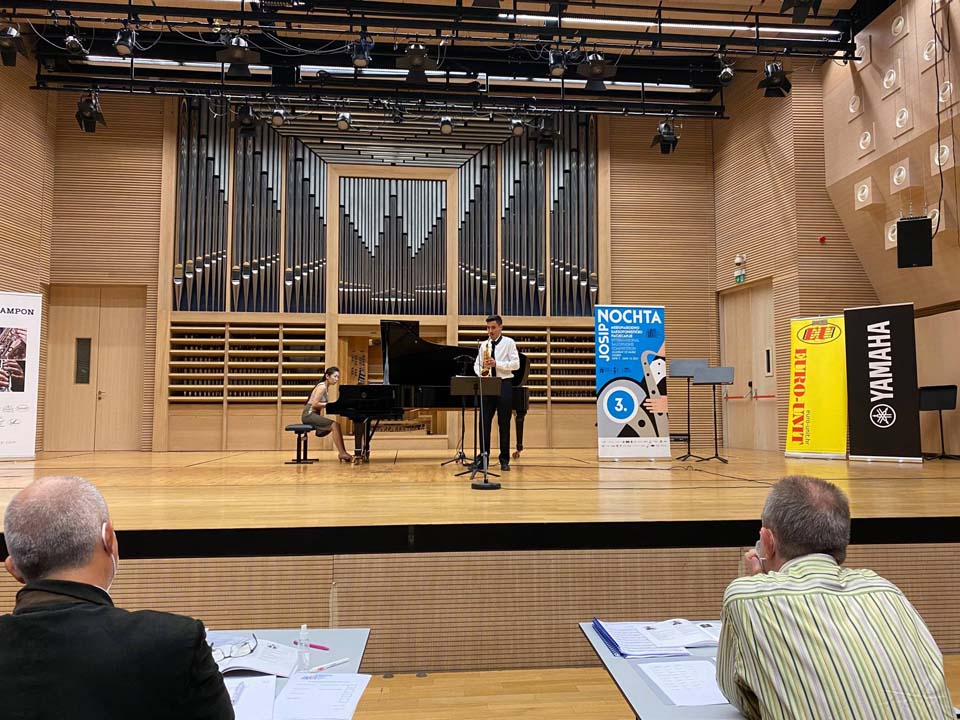 From 5th until 10th of June 2021, fifty competitors from all over the world performed on the stage of the Blagoja Bersa Concert Hall. The young musicians presented themselves to a jury consisting of some of today's leading saxophonists – Vincent David from France, Pawel Gusnar from Poland, Daniel Gauthier from Germany, Miha Rogina from Slovenia, Javier Valerio from Costa Rica and Saša Nestorović and Dragan Sremec from Croatia.
The organizers were especially pleased to be able to open the third edition of the Night to the public – all stages were open to the public.
The competition was also supported by the Zagreb Philharmonic Orchestra, which accompanied the four best young saxophonists in the final night on June 10, 2021 at 6.30 pm in the Blagoja Bersa Concert Hall, conducted by Matija Fortuna. All those who were not able to follow the competition live, the organizers made sure to provide a live broadcast that was available through the website of the Competition.
1st prize – Etienne Boussard, France
2nd prize – Marin Balssa, France
3rd prize – Oskar Rzazewski, Poland
4th prize – Francisco Jesús Rusillo Márquez, Spain
The music partners of the 3rd Josip Nochta International Saxophone Competition were Euro-Unit and Yamaha Music Europe.