12. November 2021.
EURO-UNIT RECEIVED AAA PLATINUM CREDITWORTHINESS CERTIFICATE
We are very proud of our company and the business results we have achieved over the past few years, as Dun&Bradstreet has awarded us with AAA Platinum Creditworthiness Certificate.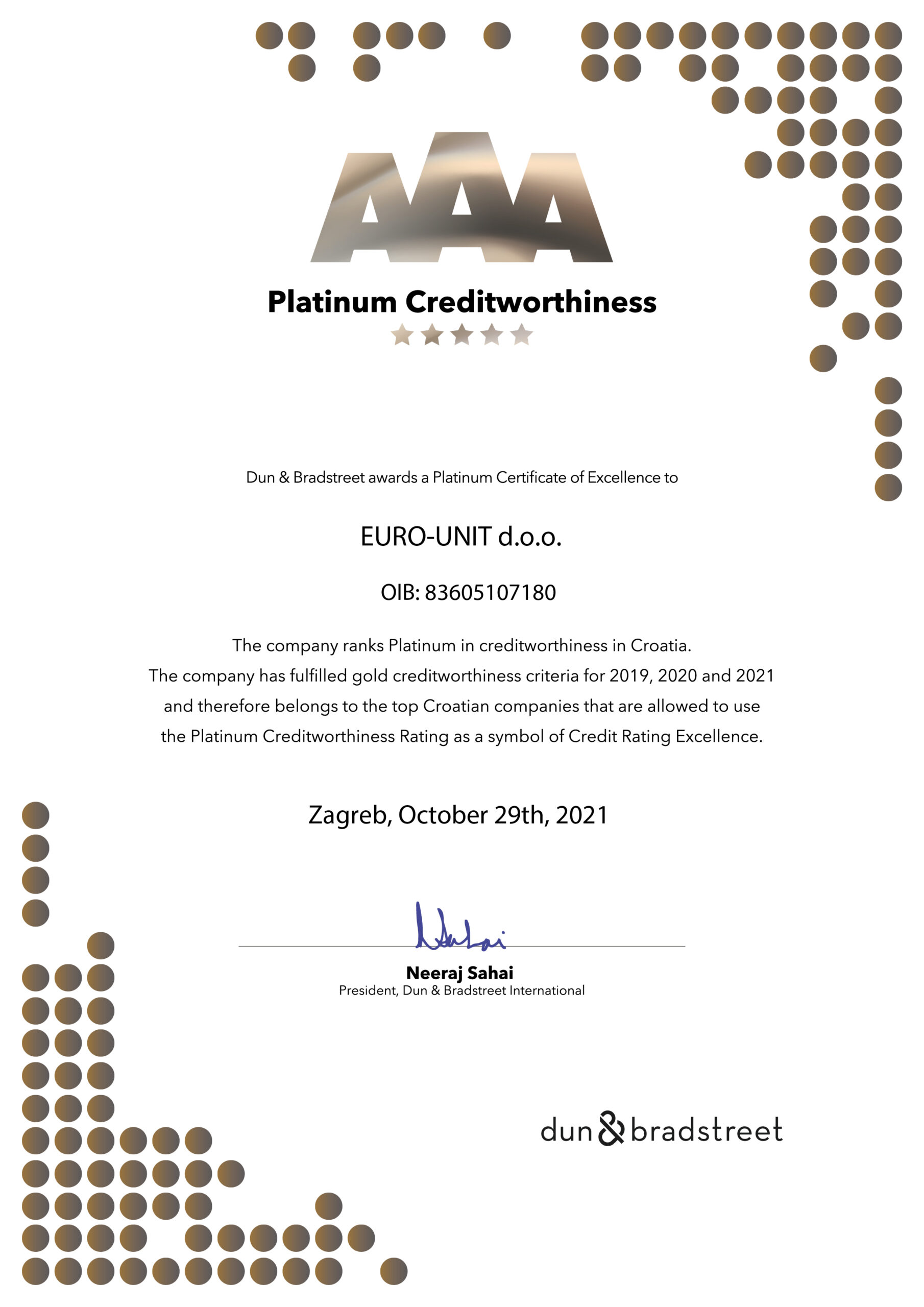 What is AAA Platinum Creditworthiness?
The Platinum Creditworthiness Certificate of Excellence is given to companies that have displayed the highest creditworthiness excellence, Gold AAA, for three consecutive years. The certificate is awarded by the Dun&Bradstreet credit rating agency. The Platinum Creditworthiness of Excellence is based on financial statements and other dynamic indicators of the company and it anticipates above-average safe and successful business operations of the company in the coming twelve months. Euro-Unit has positioned itself once again at the very top of Croatian economy and has reaffirmed its reliability in its relationship toward business partners – customers, buyers, suppliers, as well as insurance companies, banks and other business partners.
Who are the holders and why is it important to get the AAA Platinum Certificate of Excellence Certificate?
Companies that nurture business practices achieve exceptional business results and take care of the satisfaction of all involved in the work process. The goal of this entrepreneurial decoration is not only to promote functional companies and good business practices, but also to achieve financial integrity.
Euro-Unit proves once again that it is recognized as a serious and reliable business partner, both in Croatia, Europe and the global market, and the AAA Platinum Creditworthiness gives us a strong push to be even better in the years ahead.