17. June 2020.
Concert in Dragon's Garden, Strigova, 12.7.2020.
IMPORTAND INFO!
Due to the bad weather forecast on Saturday, concert will be held on Sunday, 12th of July at 19.00 hours.
—
Fans of classical music will be able to enjoy the magnificent event that will take place on Sunday, July 12, 2020 in the beautiful ambiance of the Dragon's Garden of the Valkaj family in Strigova, starting at 7 p.m. Tickets are available at the box office of the Cultural Center Cakovec, at a price of 50.00 kuna.
We look forward to this year's edition of the Dragon's Garden Concert, which will host top musicians:
Martina Filjak (piano)
Marija Kuhar Sosa (sopran)
Nina Tarandek (mezzosopran)
Domagoj Dorotic (tenor)
Mario Sosa and Nikola Grabar (piano accompaniment)
Zors Drausnik (producer)
Euro-Unit, together with Yamaha Music Europe as a long-term partner, will sponsor this event with the Yamaha CFX concert piano, which will greatly enhance this musical event under the stars. Top musicians have already played on the Yamaha CFX concert piano: Chick Corea, Ivo Pogorelic, Maksim Mrvica, Matija Dedic, Matej Mestrovic, Hakan Ali Toker, Kemal Gekic, Zvjezdan Ruzix, etc. The organizers invite you to bring a pillow for sitting on the grass as the concert will be held outdoors.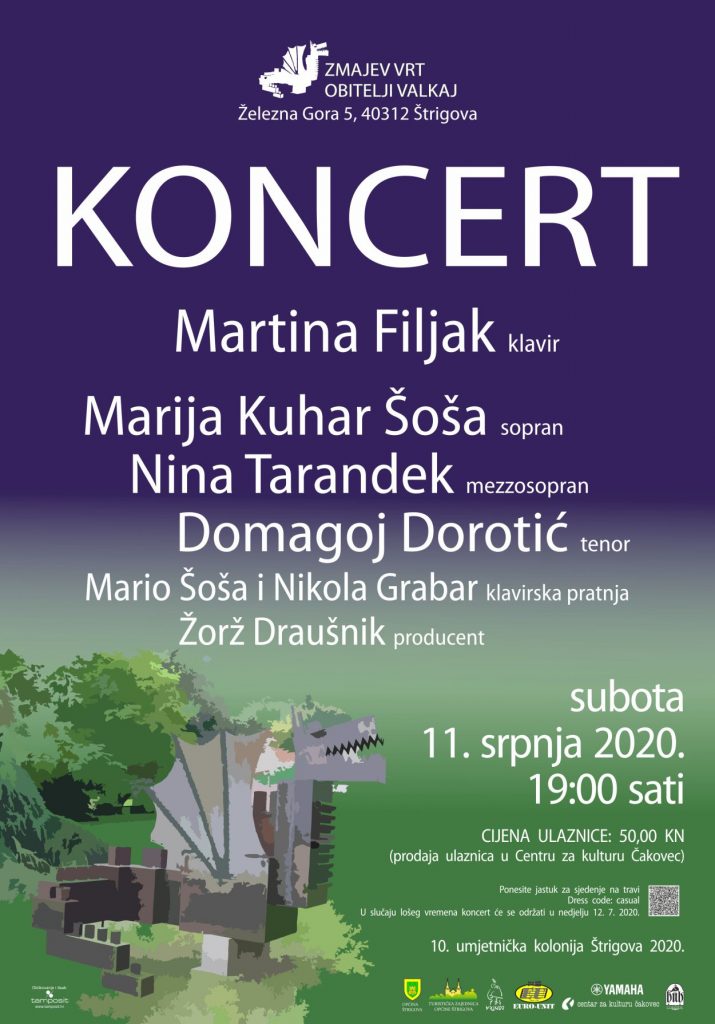 PROGRAM od Dragon's Garden concert:
Johann Sebastian Bach / Franz Liszt: Prelude in a-minor for organ BWV 543
Martina Filjak, piano
Giacomo Puccini: La Rondine
Chi il bel sogno di Doretta potè indovinar?
Marija Kuhar Sosa, sopran; Mario Sosa, piano accompaniment
Gioachino Rossini: La Cenerentola
Nacqui all'affanno… Non piu mesta
Nina Tarandek, mezzosopran; Nikola Grabar, piano accompaniment
Georges Bizet: Carmen
La fleur que tu m'avais jetée
Domagoj Dorotic, tenor; Mario Sosa, piano accompaniment
Léo Delibes: Lakmé
Duo des fleurs "Sous le dôme épais"
Marija Kuhar Sosa, sopran; Nina Tarandek, mezzosopran; Nikola Grabar, piano accompaniment
Franz Liszt: Miserere, d'après Palestrina
Martina Filjak, piano
Josip Hatze: Serenada
Nina Tarandek, mezzosopran; Nikola Grabar, piano accompaniment
Franz Lehár: Das Land des Lächelns
Dein ist mein ganzes Herz
Domagoj Dorotic, tenor; Mario Sosa, piano accompaniment
Giacomo Puccini: La Bohème
Quando men vo soletta per la via
Marija Kuhar Sosa, sopran; Mario Sosa, piano accompaniment
Giacomo Puccini: La Bohème
O soave fanciulla
Marija Kuhar Sosa, sopran; Domagoj Dorotic, tenor; Mario Sosa, piano accompaniment
PAUSE
Aleksandar Skrjabin: Nocturne op. 9
Martina Filjak, piano
Giacomo Puccini: Tosca
Recondita Armonia
Domagoj Dorotic, tenor; Mario Sosa, piano accompaniment
Charles Gounod: Romeo et Juliette
Je Veux Vivre
Marija Kuhar Sosa, sopran; Mario Sosa, piano accompaniment
Giacomo Meyerbeer: Les Huguenots
Noble seigneurs salut
Nina Tarandek, mezzosopran; Nikola Grabar, piano accompaniment
Franz Liszt / Gaetano Donizetti: Réminiscences de Lucia di Lammermoor
Martina Filjak, piano
Alfi Kabiljo, Jure Stubicanec: Medjimurje zeleno
Nina Tarandek, mezzosopran; Nikola Grabar, piano accompaniment
Ernesto De Curtis: Non ti scordar di me
Nina Tarandek, mezzosopran; Domagoj Dorotic, tenor; Nikola Grabar, piano accompaniment
Agustín Lara: Granada
Domagoj Dorotic, tenor; Mario Sosa, piano accompaniment
Franz Lehár: Giuditta
Meine Lippen sie küssen so heiß
Marija Kuhar Sosa, sopran; Mario Sosa, piano accompaniment
Giuseppe Verdi: La Traviata
Libiamo
Marija Kuhar Sosa, sopran; Nina Tarandek, mezzosopran;
Domagoj Dorotic, tenor; Mario Sosa, piano accompaniment